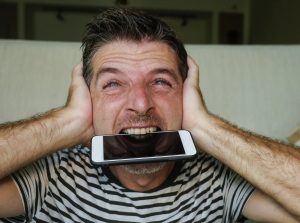 Apple is considering an iPhone feature which would lock a user out of his or her car if the user's breath alcohol levels are too high.  According to a recent patent application, published by the U.S. Patent and Trademark Office, Apple has developed a program on the IPhone and Apple Watch for those devices to function as breath-testing instruments.
Testing Breath Alcohol Levels
An earlier patent application by Apple revealed plans for the iPhone and Apple Watch to access data related to human breath characteristics.  Those characteristics include typical breath ammonia levels and acceptable alcohol levels for operating a vehicle.  That data could be utilized, "so a user can compare infrared spectra obtained when the target object of interest is that user's breath and/or the user's mouth to human breath data from the database".
The more recent patent application by Apple clarifies the iPhone may soon have a breath-testing component.  The patent application contains graphics which demonstrate the breath-testing function.  It appears the user will be prompted to blow into the phone or a phone attachment.  A phone app will then evaluate the breath sample and determine the breath alcohol concentration.  If the breath alcohol concentration exceeds the permissible threshold, the user will be locked out of the car, or the car will not start.
The iPhone app to be used for the breath-testing feature is Car Keys.  That app enables an iPhone or Apple Watch to unlock, lock, and start a vehicle using Near Field Communication (NFC) technology.
Testing Manual Dexterity and Mental Clarity
The Car Keys app may go further.  The patent application indicates the phone could also require users to complete challenges before the vehicle can be operated.  The challenges could include manual dexterity tests and mental clarity tests, such as solving a series of math problems.  Unsuccessful attempts at completing the challenges would result in the user being locked-out of the vehicle or the vehicle not starting.
About the Author:  Shawn Dominy is a leading DUI lawyer in Ohio and the founder of the Dominy Law Firm in Columbus, Ohio.  He can be reached through his law firm's website:  Dominy Law Firm.