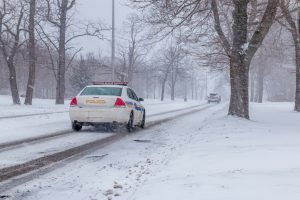 It's New Year's Eve.  Some call it 'amateur night' because people who do not drink alcohol regularly will be drinking tonight.  And some of them will be driving afterward.  If you can avoid driving tonight, you should.  If you can't avoid driving tonight, it is definitely a time to be extra careful.  You should be cautious about the other drivers on the road, and you should be responsible about your own condition.  You should also be aware that law enforcement increases patrols during the holiday season.
New Year's Eve is the pinnacle of holiday DUI enforcement campaigns by state and local law enforcement, as well as the National Highway Traffic Safety Administration.  The annual Drive Sober or Get Pulled Over holiday campaign runs from December 15, 2021 through January 1, 2022.  As part of the campaign, more law enforcement officers are working the roads, and the extra officers are dedicated to detecting DUI (called 'OVI' in Ohio).
To detect OVI, officers look for a reason to stop motorists.  The reason may be reckless driving, but it could be something innocuous.  It may be a minor traffic violation, an equipment violation, or an expired license plate.  Once an officer makes a stop, the officer seeks evidence the driver has been consuming alcohol.  If an officer observes clues a driver consumed alcohol, it's downhill from there.  The officer will likely administer field sobriety tests, make an arrest, request the driver to submit to a breath/blood/urine test, and charge the driver with OVI.
To avoid being the subject of an OVI investigation (and causing danger to yourself and others), here are some tips to consider:
If you are going somewhere with other people, designate a sober driver.
If you are going somewhere alone, consider staying there overnight.
If you are not a cave man and own a smart phone, use a ride share service rather than driving.
If you absolutely can't do any of the above, drink in moderation, or don't drink at all.
If you drive, obey all traffic rules, and ensure your vehicle does not have any equipment defects or expired plates.
Don't take the risk of driving under the influence.  The life you save may be your own.  The money you save, by not having to hire a DUI lawyer, may also be your own!
About the Author:  Shawn Dominy is a leading DUI lawyer in Ohio and the founder of the Dominy Law Firm in Columbus, Ohio.  He can be reached through his law firm's website:  Dominy Law Firm.