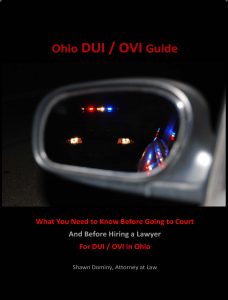 Most people don't research DUI because they don't think it will happen to them.  Until it does.  When a person is charged with DUI, they suddenly find themselves in need of accurate information.  They need to know what consequences they are facing, the potential defenses, and whether they can avoid a DUI conviction.  They also need to know what to expect when they go to court and how to find a good DUI lawyer.  A new book, the Ohio DUI/OVI Guide, provides that accurate information for drivers charged with DUI in Ohio.
The book was authored by an Ohio DUI lawyer and is written specifically for individuals charged with DUI in Ohio (where the offense is called 'OVI').  It begins by explaining what the prosecution must prove for an OVI conviction.  The author goes on to explain the evidence used by the prosecution in OVI cases, including field sobriety tests and breath/blood/urine tests.  In addition to describing the prosecution's evidence, the book also shares the most common defenses to OVI.
The book illustrates the mandatory minimum penalties and the maximum possible penalties a person faces if convicted of OVI.  Every person charged with OVI should have that information.  The book also addresses the issue of hiring a DUI lawyer.  It contains a framework for deciding whether to hire a lawyer and recommends resources for researching lawyers.  Finally, the book provides questions to ask lawyers before making the hiring decision.
The Ohio DUI/OVI Guide is for sale on Amazon.  The paperback costs $9.95, and the Kindle version sells for $5.99.  For individuals charged with OVI, this guide provides useful information to help readers make educated choices.
About the Author:  Shawn Dominy is a leading DUI lawyer in Ohio and the founder of the Dominy Law Firm in Columbus, Ohio.  He can be reached through his law firm's website:  Dominy Law Firm.