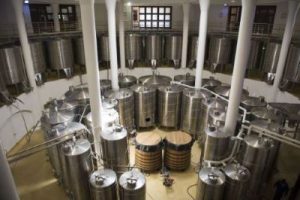 It may sound like an off-the-wall defense theory, but auto-brewery syndrome is real.  Our bodies can produce alcohol.  Alcohol (ethanol) is basically the product of fermented sugar and yeast.  We ingest yeast in various foods, and at least one kind of yeast is in the human body naturally.  Also present in the body is sugar, either through direct consumption or through the break-down of carbohydrates into glucose.  This means the body is capable of producing alcohol.  Driving with that endogenous alcohol could lead to a DUI charge (called 'OVI' in Ohio).
One interesting example of auto-brewery syndrome leading to a DUI charge is the case of the spilled salmon.  A truck driver was hauling a load of salmon on a highway in Oregon.  The driver crashed, rolled the truck, and spilled about 11,000 fish onto the road.  The driver was subjected to a blood test, and the result was .29.  The truck driver asserted the defense of auto-brewery syndrome.
That truck driver is not alone.  When an Ohio man's blood test showed a BAC of .200, he wasn't believed when he claimed he didn't consume any alcohol.  He was examined by doctors, and the doctors found excessive amounts of yeast in his digestive tract.  The excessive yeast, they concluded, was probably the result of taking antibiotics.  The doctors had the man consume probiotics, and the amount of yeast dropped drastically.  Although auto-brewery syndrome is a rare disorder, it has been diagnosed several times and is probably under-identified.
Auto-brewery syndrome is a defense to DUI charges.  The offense of DUI must be committed voluntarily, and person who reached a prohibited level of alcohol because there body manufactured it did not do so voluntarily.  It may be a rare defense, but effective DUI defense lawyers should have at least some familiarity with the phenomenon.
About the Author:  Shawn Dominy is a leading DUI lawyer in Ohio and the founder of the Dominy Law Firm in Columbus, Ohio.  He can be reached through his law firm's website:  Dominy Law Firm.