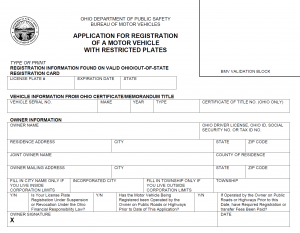 Most license plates in Ohio are white with blue letters.  Occasionally, cars in Ohio have yellow plates with red letters.  That means either the car is from out-of-state (probably New York) or the driver was convicted of DUI (called 'OVI' in Ohio).  Yellow license plates are required for some, but not all, drivers convicted of OVI in Ohio.

Ohio's Scarlet Letter
The purpose of the yellow license plates seems to be public shaming.  Like the scarlet letter 'A' worn by Hester Prynne in Nathaniel Hawthorne's novel, the scarlet letters on the yellow license plates notify onlookers the driver of the vehicle was convicted of Operating a Vehicle under the Influence (OVI).  The special plates also communicate that message to law enforcement officers.
Who Must 'Wear' the Scarlet Letter?
To answer that question, we have to enter the web of laws which make up Ohio's OVI law.  Ohio Revised Code section 4510.13 imposes restrictions on limited driving privileges.  That section states judges must impose, as a condition of limited driving privileges, a requirement that the offender drive a vehicle displaying 'restricted license plates'.  That requirement applies when the offender's driver license is suspended under Ohio Revised Code sections 4511.19(G)(1)(c), (d), or (e) or when the offender's driver license is suspended under Ohio Revised Code sections 4511.19(G)(1)(a) or (b) when the violation of division (A)(1)(f), (g), (h), or (i) of section 4511.19.
Following that thread, and untangling the web, tells us restricted license plates are mandatory for driving privileges for the following OVI convictions:
First OVI conviction within ten years and either a 'high test' or test refusal and prior OVI conviction within 20 years
Second OVI conviction within ten years and a 'high test' (at or above .170 BAC)
Third OVI conviction (or more) within ten years
Felony OVI conviction
In addition to those convictions for which restricted plates are mandatory, yellow plates are optional for all OVI suspensions and Administrative License Suspensions.
Party Plates and Family Plates
Although the Ohio Revised Code uses the term 'restricted license plates', the yellow license plates are often called 'party plates'.  But the yellow license plates are not only required for individuals convicted of certain OVI offenses.  They are also required when an OVI defendant's vehicle is immobilized but the immobilization is waived so a family member can drive the defendant's vehicle.
The family member must file a motion under Ohio Revised Code section 4503.235 to waive immobilization.  The basis for the motion is the family member is completely dependent on the vehicle, and immobilization of the vehicle would be an undue hardship to the family member.  If the motion is granted, for the family member to drive the vehicle, the vehicle must display restricted plates.  For this reason, the yellow plates are sometimes called 'family plates'.
Sanctions for Yellow Plate Violations
If an OVI defendant is required to display restricted license plates and operates a vehicle without yellow plates, that person may be charged with Driving Under an OVI Suspension.  The penalties for that offense include an additional license suspension for up to one year, jail term of three days to six months, a fine of $250 to $1,000, and vehicle immobilization for 30 days.
If a family member operates a vehicle without the required 'family plates', the family member may be charged with Operating a Motor Vehicle in Violation of an Immobilization Waiver.  That offense is a first-degree misdemeanor and is punishable by a jail term of up to six months, a fine up to $1,000, and probation for up to five years.
About the Author:  Shawn Dominy is a leading OVI lawyer in Ohio and the founder of the Dominy Law Firm in Columbus, Ohio.  He can be reached through his law firm's website:  Dominy Law Firm.