Jan. 23, 2021, 8:51 PM EST
/ Source: TODAY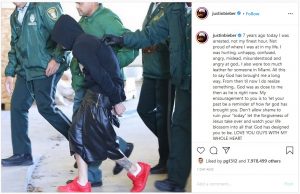 Instagram (Justin Beiber Official Page)
Justin Bieber is reflecting seven years after his arrest in Miami Beach on Jan. 23, 2014. Beiber was charged with DUI, resisting arrest without violence, and an expired driver's license. The 26-year-old singer admitted that he was not proud of where he was in his life at age 19 sharing a photo of his arrest on Instagram, above, using the caption to look back on that day and reflect on how much he has grown since.
Miami Beach Police spokesman Sgt. Bobby Hernandez told NBC Miami at the time that the arrest occurred at 4:00 a.m. and that the singer failed a sobriety test at the scene. Hernandez said during a press conference that after he was arrested, Bieber admitted to consuming alcohol and prescription medications and smoking marijuana. A toxicology report at the time showed that the singer tested positive for marijuana and Xanax. A DUI test report showed that even for an underage driver, his alcohol breath tests were under the legal limit.
DUI Charges for Different Age Groups
It's no secret, driving under the influence (DUI) can have severe consequences. However, you may not know that the factors which can affect a DUI case can vary substantially based on a person's age group. For example, two people aged 21 and 60 may be judged against the same rubric during a field sobriety test, despite differences in physical fitness and ability.
Considerations for those in different DUI age groups can include:
Drug Recognition Expert Procedures
In the late 1970's, the Drug Recognition Expert (DRE) program was developed by the Los Angeles Police Department.
The purpose is threefold, to train selected DRE officers to:
Understand and utilize the procedure for drug recognition
Determine whether the individual is under the influence
Evaluate the type of drug causing the impairment
Rule out conditions that could contribute to the impairment
With the success of several studies, such as ones done by Johns Hopkins University and the U.S. National Highway Traffic Safety Administration, DRE techniques have spread across multiple countries. Because of the reliability of DRE evidence, individuals who are charged with a DUI involving drugs should not hesitate to get the professional assistance of me, Attorney Blecher.
Understanding Prescription Drug DUI
Most people know they can be arrested for alcohol or illegal drug-related intoxication while driving, but many are surprised to learn that they can also be arrested for a prescription drug DUI.
Many types of substances may be involved in a DUI case, including:
Prescription pain killers
Marijuana
Cocaine
Prescription anti-addiction drugs
Heroin
Prescription anti-anxiety medications
Even though use of a medication prescribed to you is not illegal, you could be arrested for driving under the influence of that medication if it is alleged that the drug affected your ability to safely operate your vehicle. If your prescription's label has warnings such as "may cause drowsiness or dizziness" or "do not operate a motor vehicle or heavy machinery while taking this medication," you could be charged if pulled over by police.
About the Author: Licensed to practice since 1982, Jonathan Blecher has defended over 5000 DUI and suspended driver license cases. A former Assistant State Attorney under Janet Reno, Jonathan later developed his interest and skills in DUI defense working under DUI legend Richard Essen, a founding member of the National College for DUI Defense. A member of the College himself, Jonathan has lectured on DUI topics at seminars, civic and business groups, as well as at the Miami-Dade County Police academy in courtroom procedure for police cadets. Jonathan is AV-Rated by Martindale-Hubbell and is authorized to appear before the Supreme Court of the United States, the Fifth and Eleventh United States Courts of Appeal, the U.S. District Court for Southern and Middle Districts of Florida, as well as the U.S. District Court for the Eastern District of Michigan. Mr. Blecher can be reached at www.duilawdefense.com, jonathan@blecherlaw.com, and 305.321.3237.