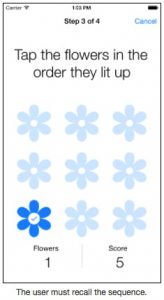 According to Inverse.com, the National Institute on Drug Abuse has now created a mobile phone app that can determine if you are impaired due to marijuana consumption. The app, presented by Elisa Pabon, a Ph.D. candidate at the University of Chicago, is called, "Am I Stoned?"
The app, while not yet ready for distribution, tracks performance on certain digital tasks performed on one's smart phone. Surprisingly, the most accurate assessments of impairment came from the study participants.  "With regard to self-assessments, subjects were in general accurate in their awareness of impairments on the tasks," according to the published results of the study of 24 subjects, some of whom consumed marijuana in varying amounts.
The ultimate goal, of course, is to create a product that allows people to easily self-assess their sobriety. Unlike breath tests for alcohol, no similar device yet exists for marijuana, or THC, although several such devices are in the process of development. For more information on this topic, check out some of our previous posts by clicking here.  Until then, it is best not to drive while stoned.
About the Author: Steven Oberman has been licensed in Tennessee since 1980, and successfully defended over 2,500 DUI defendants.  Among the many honors bestowed upon him, Steve served as Dean of the National College for DUI Defense, Inc. (NCDD) and currently serves as chair of the National Association of Criminal Defense Lawyers DUI Committee.  Steve was the first lawyer in Tennessee to be Board Certified as a DUI Defense Specialist by the NCDD.
He is the author of DUI: The Crime & Consequences in Tennessee, updated annually since 1991 (Thomson-West), and co-author with Lawrence Taylor of the national treatise, Drunk Driving Defense, 8th edition (Wolters Kluwer/Aspen).  Steve has served as an adjunct professor at the University of Tennessee Law School since 1993 and has received a number of prestigious awards for his faculty contributions.  He is a popular international speaker, having spoken at legal seminars in over 30 states, the District of Columbia and three foreign countries.
If you would like to contact the author, please visit: http://www.tndui.com