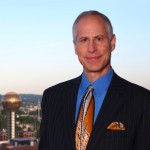 According to Tennessee House Bill 275, which was introduced this year (2013), strip searches would be allowed regardless of the crime for which one is arrested.  This necessarily incorporates the crime of Driving Under the Influence.
 Tennessee Code Annotated § 40-7-119 currently states,
"(a) As used in this section, "strip search" means having an arrested person remove or arrange some or all of the person's clothing so as to permit a visual inspection of the genitals, buttocks, anus, female breasts or undergarments of the arrested person.
(b) No person arrested for a traffic, regulatory or misdemeanor offense, except in cases involving weapons, a controlled substance or controlled substance analogue, shall be strip searched unless there is reasonable belief that the individual is concealing a weapon, a controlled substance, a controlled substance analogue or other contraband."
The proposed change would be to delete the exclusions noted in subsection (b) and substitute instead the following:
(b)  Any person arrested for an offense may be strip searched in accordance with search or intake procedures.
As of  March 31, 2013, the proposed bill has not yet passed.   Tennessee citizens should be concerned, however.  Should this bill become law, persons who may be arrested for driving with an expired driver's license, failing to appear in court for a speeding ticket, and of course, Driving While Intoxicated may find themselves strip-searched upon entering their local jail.
For updates on this proposed law, one may click the following link: http://wapp.capitol.tn.gov/apps/BillInfo/Default.aspx?BillNumber=HB0275.
For additional information relating to traffic and DUI laws in the State of Tennessee, contact the DUI defense lawyers at Oberman & Rice, Trial Attorneys in Knoxville, TN.