As a leading ignition interlock device provider, we are committed to providing up-to-date information on state regulations and changes to ignition interlock device requirements.
You may be aware of these new requirements from the Tennessee Department of Safety and Homeland Security Breath Alcohol Ignition Interlock Program, effective January 1, 2023.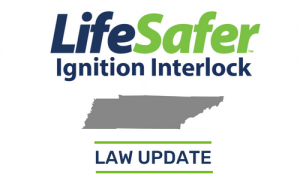 Starting on that date, strict violation enforcements of the Tennessee Code Annotated Sections TCA 55-10-417 (d) (3) and TCA 55-10-425 (c) will apply to an offender's program period if they hold a Code 16 Ignition Interlock Restricted Driver's License:
Removing the devices at any time during the ignition interlock usage period;
Failing to return to a service center to have the device calibrated, inspected and downloaded of the data and photos within 30 days; or
Tampering with or circumventing the ignition interlock device
Any of the above violations will result in a restart of the entire ignition interlock period. 
LifeSafer ignition interlock devices continue to meet and exceed Tennessee state regulations. If you're an attorney and have any questions about how this change will impact your clients, please don't hesitate to reach out. We value your partnership and are here to support you however we can.
Contact us at LifeSaferPartner@ScramSystems.com to learn more about the LifeSafer Partner Program or to get access to collateral to make the process quick and easy for your clients.
With certified installation locations throughout Tennessee, we will ensure your clients are taken care of during their installation, calibration, and removal appointments.
If this change directly impacts you, we are available 24/7 to help you understand what this means for you. With our full-service account management portal, we have chat agents available to answer your questions in real-time.