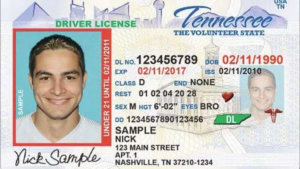 Tennessee DUI clients often inquire about how to procure an official copy of one's driving history.  This document will show all moving traffic violations for the past three years. Offenses of relevant concern include Driving Under the Influence of an Intoxicant, Driving on a Revoked Driver's License or Driving on a Suspended Driver's License. This report is particularly helpful if a client is unaware of the outstanding moving traffic violations or other unpaid citations that have resulted in the suspension or revocation of their driver's license. Accordingly, this post will discuss the three ways to get your driving history (also called a Moving Violation Report or MVR).
1.         Perhaps the easiest way to obtain this report is to do so online. For most, it will be easier to use a computer rather than a mobile device because you will ultimately need to print or save the report, which will be presented in an Adobe PDF format.  The report may be printed or saved to a hard drive.
The link to obtain the report online may be found by clicking here. As of the date of this post, the cost for the report is $7.00, which may be paid by most credit or check cards, so long as you have available the billing address as it appears on your card statement. Be aware, however, that a prepaid card is not acceptable. When requesting this report, you will need the driver's: a. Exact name, b. Birthdate, and c. Tennessee driver license number.
2.         The second method to secure this report is to travel to a Tennessee Driver Service Center.  The most convenient location be found by clicking here. The cost to obtain the records at a Tennessee Driver Service Center is $5.00. If you are sending someone else to obtain the report on your behalf, a notarized authorization for that person to obtain your record must be submitted at the time of the request.
3.         The final method to get your MVR is to request the report by mail. The request must include the driver's: a. Exact name, b. Birthdate, and c. Tennessee driver license number. The request should be sent to:
Tennessee Department of Safety & Homeland Security
MVR Request
PO BOX 945
Nashville, TN 37202
The cost for this report is $5.00, which must be paid by cashier's check or money order made payable to Tennessee Dept. of Safety & Homeland Security. It generally takes about 2 weeks from the mailing date of the request to receive this report.
About the Author: Steven Oberman has been licensed in Tennessee since 1980, and successfully defended over 2,500 DUI defendants.  Among the many honors bestowed upon him, Steve served as Dean of the National College for DUI Defense, Inc. (NCDD) and currently serves as chair of the National Association of Criminal Defense Lawyers DUI Committee.  Steve was the first lawyer in Tennessee to be Board Certified as a DUI Defense Specialist by the NCDD.
He is the author of DUI: The Crime & Consequences in Tennessee, updated annually since 1991 (Thomson-West), and co-author with Lawrence Taylor of the national treatise, Drunk Driving Defense, 8th edition (Wolters Kluwer/Aspen).  Steve has served as an adjunct professor at the University of Tennessee Law School since 1993 and has received a number of prestigious awards for his faculty contributions.  He is a popular international speaker, having spoken at legal seminars in 30 states, the District of Columbia and six foreign countries.  After being named a Fulbright Scholar, Steve was honored to teach as an Adjunct Professor at the University of Latvia Law School in the capital city of Riga, Latvia during the Spring Semester of 2019.  Learn more about Steve and contact him though https://www.tndui.com/.