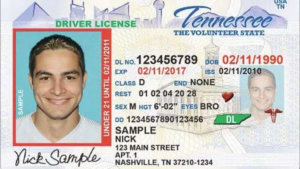 There is good news for those attempting to have their Tennessee drivers license reinstated. Many Tennessee driver's license holders attempting to reinstate their driver's license after a suspension or revocation,  find the reinstatement not only expensive, but also time consuming and inconvenient.  The Tennessee Department of Safety has now come to the rescue.
On December 2, 2020, the Tennessee Department of Safety (TDOS) announced new online services available for those with suspended or revoked driver licenses.  Although not available for all drivers, some Tennessee residents can now complete the entire reinstatement process without visiting a Driver Service Center in person.  However, the TDOS notes that not all drivers are eligible to use the online or self-service kiosk for driver license re-issuance.  The new service is referred to by the TDOS as "e-Services."  If you are not able to complete the reinstatement process online, you will be required to visit a Reinstatement Center.
Read more about the details of this new service on our Tennessee blog.  I highly recommend also reviewing our blog post, TN Driver License Reinstatement—Navigating the TDOS Website before accessing the online services.
---
About the Author: Steven Oberman has been licensed in Tennessee since 1980, and successfully defended over 2,500 DUI defendants.  Among the many honors bestowed upon him, Steve has served as Dean of the National College for DUI Defense, Inc. (NCDD) and currently serves as chair of the National Association of Criminal Defense Lawyers DUI Committee.  Steve was the first lawyer in Tennessee to be Board Certified as a DUI Defense Specialist by the NCDD.
He is the author of DUI: The Crime & Consequences in Tennessee, updated annually since 1991 (Thomson-West), and co-author with Lawrence Taylor of the national treatise, Drunk Driving Defense, 8th edition (Wolters Kluwer/Aspen).  Steve has served as an adjunct professor at the University of Tennessee Law School since 1993 and has received a number of prestigious awards for his faculty contributions.  He is a popular international speaker, having spoken at legal seminars in 30 states, the District of Columbia and six foreign countries.  After being named a Fulbright Scholar, Steve was honored to teach as an Adjunct Professor at the University of Latvia Law School in the capital city of Riga, Latvia during the Spring Semester of 2019.  If you would like to contact the author, please visit his website at www.tndui.com.