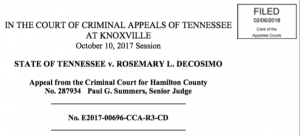 On February 6, 2018, the Tennessee Court of Criminal Appeals issued an opinion ruling that Tennessee Code Annotated section 55-10-413(f), which gives the Tennessee Bureau of Investigation a fee of $250 for each DUI conviction that is obtained using a blood or breath test, is unconstitutional. The TBI does not receive this fee in the event of an acquittal. This landmark decision is considered to be limited only used to the persons who were actually parties to this case (over 20 defendants with pending cases in the Hamilton County, Tennessee (Chattanooga) Criminal Courts). In other words, this decision in this case is not binding on other courts. Nonetheless, the matter has been appealed by the Tennessee Attorney General's Office to the Tennessee Supreme Court on an expedited basis to hopefully get a binding opinion for all courts in Tennessee. The opinion may be read at: http://www.tncourts.gov/sites/default/files/rosemary_decosimo_opinion.pdf
The Tennessee Court of Criminal Appeals stated, "While we acknowledge that TBI forensic scientists could lose their jobs if they falsify test results and these falsifications are discovered, we also recognize that forensic scientists would most certainly lose their jobs if funding for their positions disappears, a result of which these forensic scientists are no doubt well aware. Because the fee system at issue in this case calls into question the trustworthiness of the TBI forensic scientists' test results, it violates due process."
The effect of the current opinion is to prevent a chemical test in applicable cases from being used against a defendant at trial. But this doesn't mean that the prosecution will lose every case. It will have little to no effect, for instance, in cases where the defendant appears in a recording to be obviously grossly intoxicated, or in cases where the defendant refused a blood or breath test.   Mr. Oberman was interviewed by several media outlets about this case.  You may review his comments aired on WBIR-TV.  Although it will likely be months before a decision by the Tennessee Supreme Court is issued, lawyers and defendants across the state are anxiously awaiting the outcome.
About the Author: Steven Oberman has been licensed in Tennessee since 1980, and successfully defended over 2,500 DUI defendants.  Among the many honors bestowed upon him, Steve served as Dean of the National College for DUI Defense, Inc. (NCDD) and currently serves as chair of the National Association of Criminal Defense Lawyers DUI Committee.  Steve was the first lawyer in Tennessee to be Board Certified as a DUI Defense Specialist by the NCDD.
He is the author of DUI: The Crime & Consequences in Tennessee, updated annually since 1991 (Thomson-West), and co-author with Lawrence Taylor of the national treatise, Drunk Driving Defense, 7th edition (Wolters Kluwer/Aspen).  Steve has served as an adjunct professor at the University of Tennessee Law School since 1993 and has received a number of prestigious awards for his faculty contributions.  He is a popular international speaker, having spoken at legal seminars in over 30 states, the District of Columbia and three foreign countries.
If you would like to contact the author, please visit: http://www.tndui.com